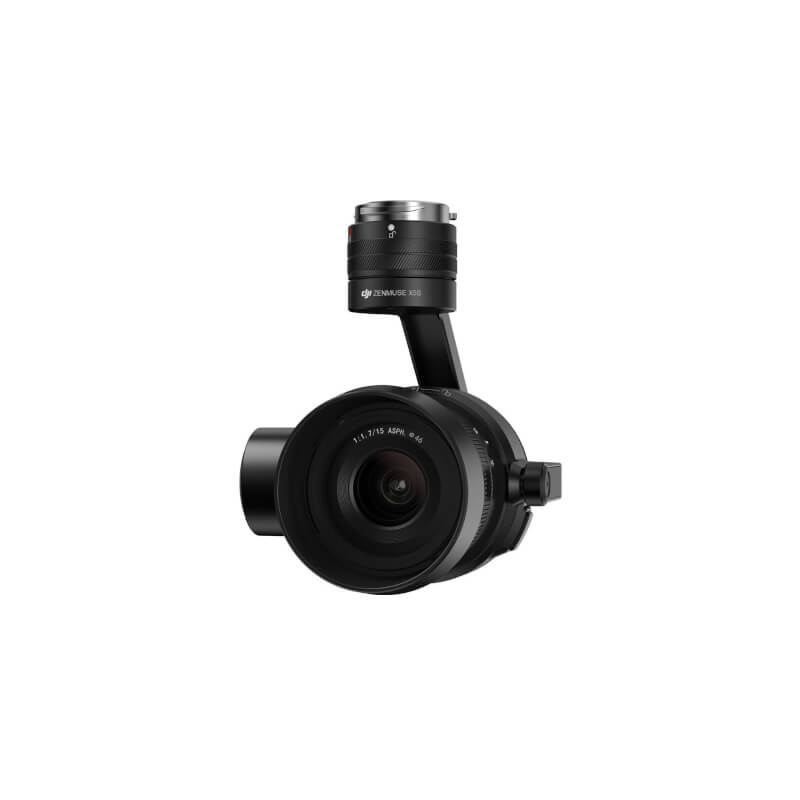 Zenmuse X5S
KEY FEATURES: • Inspire 2 Compatibility • Micro 4/3 • 5.2K CinemaDNG • 4K Apple ProRes • 12.8 Stops of Dynamic Range • 20.8 MP Stills
Description
Zenmuse X5S
Equipped with an uprated Micro 4/3 sensor, the Zenmuse X5S has a dynamic range of 12.8 stops with a much improved signal to noise ratio and color sensitivity than the X5R. It supports up to eight standard M4/3 lenses (including zoom lenses) with focal lengths ranging from 9mm-45mm(equivalent to 18mm-90mm on a 35mm camera), allowing more creative flexibility. The new CineCore 2.0 image processing system on the Inspire 2makes the Zenmuse X5S capable of capturing 5.2K 30fps CinemaDNG video and Apple ProRes video* as well as 4K 60fps using H.264 and 4K 30fpsusing H.265 (both at 100Mbps).
INSPIRE 2 AERIAL IMAGING
Compared with the Inspire 1, the Inspire 2 utilizes an innovative structure that separates the CineCore 2.0 image processing system from the camera and places it inside the aircraft. This means that the sensor and optical system are detachable and easily connected using a newly designed quick-release connector. Designing the camera system in this way effectively protects the sensor from magnetic interference originating from the processor. It also allows a range of lightweight camera units to be connected as required by different scenes. The uprated M4/3 sensor — and support for interchangeable lenses — allows the Zenmuse X5S to capture high resolution images of incredibly high quality, when combined with the extraordinary CineCore 2.0 image processing system.
IMPROVED MICRO 4/3 SENSOR
The onboard Micro 4/3 sensor has been upgraded, significantly improving image quality. With a pixel size of 3.4μm, this 20.8-megapixel sensor captures more detail than the previous sensor. It has 12.8 stops of dynamic range as well as a better signal to noise ratio and color sensitivity than the X5R. It is allowing it to create clear, low noise images in low light environments.
ARRAY OF COMPATIBLE LENSES
Since it uses a standard Micro 4/3 mount, the Zenmuse X5S now supports up to eight professional lenses.
HOLLYWOOD-GRADE VIDEO
Using CineCore 2.0, the Zenmuse X5S records video at a maximum resolution of 5.2K/30fps in CinemaDNG 12bit, 5.2K 30fps Apple ProRes 422 HQ and 4K 30fps Apple ProRes 4444 XQ (no alpha). Additional recording options include video in 4K/60fps using H.264 or oversampling video in 4K/30fps using H.264/H.265, both with a bitrate of 100Mbps.
LOSSLESS IN-VIDEO SINGLE AND BURST PHOTO CAPTURE
Using only the Micro SD card, 20.8MP stills can be captured at 14fps in Burst Mode in JPEG+DNG. Using the DJI CINESSD opens up 20fps continuous DNG Burst Mode with a maximum image resolution of 20.8 megapixels.
LONG-RANGE CAMERA AND FOCUS CONTROL
Take control over every camera setting from afar, including focus, aperture, and format, directly in the DJI GO 4 app. Precision control also extends to focus. With DJI GO 4 and the optional DJI Focus, offering focus control across the entire transmission range.
You can check other Drones / Unmanned aerial vehicles and systems at this link.
Specifications
Dimensions

140×98×132 mm

Weight

461 g

Sensor

CMOS, 4/3"

Effective Pixels

20.8MP

Photo Resolutions

4:3, 5280×3956
16:9, 5280×2970

Photo Formats

DNG,JPEG,DNG+JPEG

Video Formats

RAW,ProRes,MOV,MP4
Informations
PRIORITY SHIPPING
We ship our products by most trusted shipping agencies – UPS & DHL
SHIPPING WORLDWIDE
We ship to any part of our World
FREE & FAST SHIPPING
Doesn't matter where we will send instruments and equipment, shipment is free
ASSISTANCE 
Contact us on +38766162261 (Mobile+ Viber + WhatsApp)
Bosna i Hercegovina​
+38766162261
Serbia
+381640114686
Montenegro
+38267239669
E-mail [email protected].
Only logged in customers who have purchased this product may leave a review.