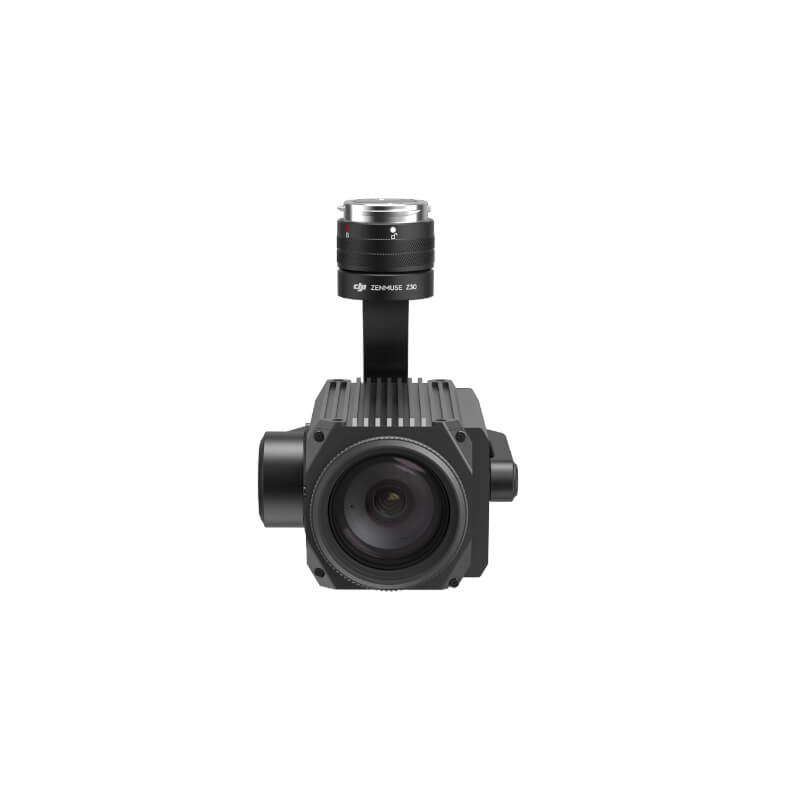 Zenmuse Z30
KEY FEATURES: • ompatible with DJI's series of Matrice Drones and can be used to capture detailed visual data • Ideal for inspecting structures • Ideal for aiding first responders such as firefighters • 30x optical zoom and 6x digital zoom gives a total magnification of 180x • Sophisticated gimbal technology stabilises the camera to within ±0.01° • Precision controls • Footage can be streamed to a central hub improving safety and reducing the number of on-site workers • Streaming of footage reduces the risk of accidental collisions with the subject • Can be used with intelligent flight modes: TapZoom and Point of Interest • TapZoom: automatically adjusts focal length when zooming • Point of Interest: keeps subject in view while the aircraft circles it • Safe, efficient and detailed collection of visual data • Easy to attach to the Matrice Drones
Description
Zenmuse Z30
Aerial platforms are rapidly becoming vital tools for businesses looking to more efficiently collect information crucial to their operations. As the first integrated aerial camera with an optical zoom up to 30x and digital up to 6x, the Zenmuse Z30 offers unparalleled image data capture. Enterprises are now able to capture the information they require from a greater range, making image data collection significantly faster and eliminates risk of harm to both personnel and equipment.Designed to seamlessly integrate with DJI's Matrice series of airframes, the Zenmuse Z30 works right out of the box and gives access to the intelligent features DJI is known for.
ZOOM
The Zenmuse Z30 is the most powerful integrated aerial zoom camera on the market with 30x optical and 6x digital zoom for a total magnification up to 180x. Whether you are inspecting cell towers or wind turbines, it enables you to get a detailed look at structures, wires, modules and components to detect damage.
As a result of letting you conduct inspections from a distance without the need to fly close, not only is speed and efficiency of your operations increased but risk of collision is obviated.
With TapZoom, precise collection of visual data is as easy as tapping your finger to point the camera at the subject of your inspection. The Zenmuse Z30 automatically adjusts its focal length to give you an enlarged view, making the most minute of details visible in just seconds.
STABILIZATION
A high-powered zoom means that any movement in the system is magnified, so stability is of utmost importance. The Z30 incorporates DJI's leading gimbal technology for stabilization within 0.01° and the same precision for controls. This enables long-range inspection that is always high in fidelity.
COMPATIBLE WITH MATRICE
Adapting the Z30 to your existing Matrice-based aerial system is easy thanks to its integrated design.Simply slide the camera in the mount and you're ready for take-off.
The Zenmuse Z30 is designed for use with DJI Lightbridge 2, breaking technical limits to increase range up to 3.1 miles (5km). The integrated controllerand intelligent algorithms set a new standard for wireless HD image transmission by lowering latency and increasing image fidelity.
Informations
PRIORITY SHIPPING
We ship our products by most trusted shipping agencies – UPS & DHL
SHIPPING WORLDWIDE
We ship to any part of our World
FREE & FAST SHIPPING
Doesn't matter where we will send instruments and equipment, shipment is free
ASSISTANCE 
Contact us on +38766162261 (Mobile+ Viber + WhatsApp)
Bosna i Hercegovina​
+38766162261
Serbia
+381640114686
Montenegro
+38267239669
E-mail [email protected].
Only logged in customers who have purchased this product may leave a review.