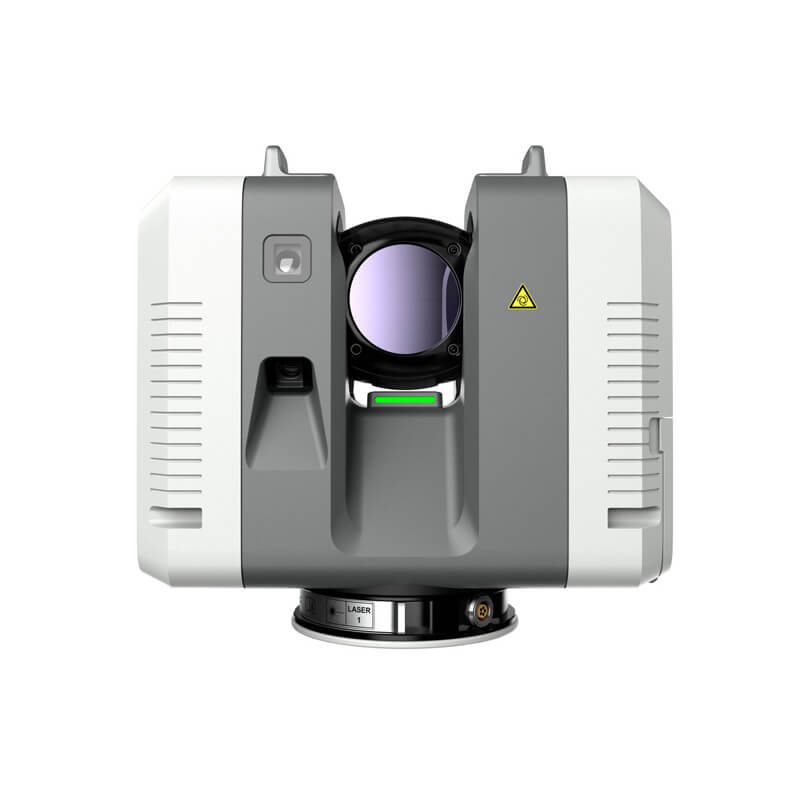 Leica RTC360 3D Laser Scanner – used
The Leica RTC360 3D Laser Scanner reality capture solution empowers users to document and capture their environments in 3D, improving efficiency and productivity in the field and in the office through fast, simple-to-use, accurate, and portable hardware and software. The Leica RTC360 3D Laser Scanner is the solution for professionals to manage project complexities with accurate and reliable 3D representations and discover the possibilities of any site. Included in this package: 1x RTC360 Package 1x RTC 360 Laser Scanner 1x Calibration Cert. "Silver", TLS RTC 360 4x GEB361 Battery int Li-Ion 11.1V/5600mAh 1x GVP730 Container for RTC360 2x MS256 Industrial USB Stick 256GB 1x GVP736, Backpack for RTC360 1x Leica RTC360 QG,multil.1 1x Leica Cyclone FIELD 360 Info Sheet 1x Leica RTC360 USB Documentation Card 1x PowerSupply Configuration 1x GKL341 Cargador Pro 5000 1x Cable 2 polos EU, de Cargador 1x 1 yr RTC360 Laser Scanner CCP Basic 1x 1yr RTC360 Laser Scanner Custom. Support
Description
The Leica RTC360 3D Laser Scanner reality capture solution empowers users to document and capture their environments in 3D. Improving efficiency and productivity in the field and in the office through fast, simple-to-use, accurate, and portable hardware and software. The Leica RTC360 3D Laser Scanner is the solution for professionals to manage project complexities with accurate and reliable 3D representations.
Highly portable, highly automated, intuitive and designed for maximum productivity. The RTC360 solution efficiently combines the RTC360 a high-performance 3D laser scanner. Leica Cyclone FIELD 360 mobile-device app for edge computing for automatically registering scans in real time. Leica Cyclone REGISTER 360 office software to integrate your 3D model seamlessly into your workflow.
Capture scans, including enriching High-Dynamic Range (HDR) imagery, in less than two minutes.
Automatically record your moves from station to station to pre-register your scans in the field without manual intervention.
Augment your data capture with information tags illustrating the opportunities for better planning, reflect site reality, and boost your teams' situational awareness
Directly publish your captured data from Cyclone FIELD 360 to Leica TruView Cloud to quickly exchange project information prior to import and registration
Fast
Additionally, the new Leica RTC360 laser scanner makes 3D reality capture faster than ever before. With a measuring rate of up to 2 million points per second and advanced HDR imaging system. The creation of colored 3D point clouds can be completed in under two minutes. Plus, automated target less field registration (based on VIS technology) and the seamless, automated transfer of data from site to office reduce time spent in the field and further maximize productivity.
Precise
Low noise data allows for better images, resulting in crisp, high-quality scans that are rich in detail and ready for use in a range of applications.
Agile
Small and lightweight, the Leica RTC360 scanner's portable design and collapsible tripod mean it's compact enough to fit into most backpacks, ready to be taken anywhere. Once on-site, easy-to-use, one-button operation makes for fast, hassle-free scanning.
Pre-registration in the field
Also, as part of the RTC360 solution, the Cyclone FIELD 360 app links the 3D data acquisition in the field with the laser scanner and data registration in the office with Cyclone REGISTER 360. On-site the user can automatically capture, register and examine scan and image data. The user interface combines easy handling of complex calculations with a graphical user guidance that offers a remarkable user experience, also for novice users.
You can check other used laser scanners at this link.
Specifications
3D laser scanner

High-speed 3D laser scanner with
integrated HDR spherical imaging system
and Visual Inertial System (VIS) for real
time registration

Brand
Data acquisition

<2 mins for complete full dome scan and
spherical HDR image at 6mm @ 10 m
resolution

Accuracy

Angular accuracy 18"
Range accuracy 1.0 mm + 10 ppm
3D point accuracy
1.9 mm @ 10 m
2.9 mm @ 20 m
5.3 mm @ 40 m

Speed

1 minute for full spherical HDR image at
any light condition

Tilt

IMU based, Accuracy: 18" (for upright
and upside down setups with +/- 10°
inclination)

Additional sensors

Altimeter, Compass, GNSS

Dimensions

120 mm x 240 mm x 230 mm / 4.7'' x
9.4'' x 9.1''

Weight

5.35 kg / 11.7 lbs, nominal (without
batteries)
Informations
PRIORITY SHIPPING
We ship our products by most trusted shipping agencies – UPS & DHL
SHIPPING WORLDWIDE
We ship to any part of our World
FREE & FAST SHIPPING
Doesn't matter where we will send instruments and equipment, shipment is free
ASSISTANCE 
Contact us on +38766162261 (Mobile+ Viber + WhatsApp)
Bosna i Hercegovina​
+38766162261
Serbia
+381640114686
Montenegro
+38267239669
E-mail [email protected].
Only logged in customers who have purchased this product may leave a review.