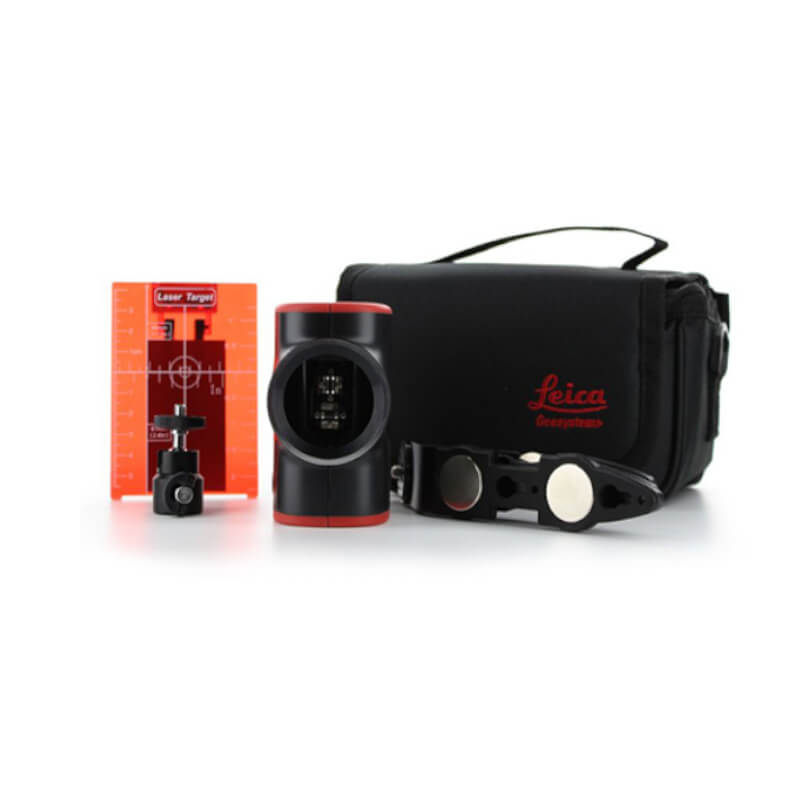 Leica Lino L2
KEY FEATURES: • This unit contains a Class II Laser with 1mW output • Projects bright red crossing horizontal and vertical lines up to 45ft • IP54 rated dust-proof and splash-protected • Exact 90° angle: Alignment work, such as marking 90° angles, is performed at the touch of abutton. • Self-Leveling Feature lets you know your line is out of level by blinking • Pendulum Lock feature to manually switch off the self-levelling so the laser line can be projected at any angle
Description
Leica Lino L2
The Leica LINO L2 projects bright red laser lines up to 45ft depending upon lighting conditions. This cross line laser level has a 120° fan angle and is ideal for alignment work, including the setting of 90° angles. With the pendulum lock feature you can manually switch off the auto-level so the laser lines can be projected at any angle. Lock feature also protects the LINO L2 during transport. Very easy to use, with only two buttons the Lino L2 laser will pulse to signal if the laser is not level. Minor angular misalignments of ± 4° are compensated automatically. If the angular misalignment is greater, the device does not project any lines. Best in class accuracy, +/- 1 mm at 5 meters.
Save Time and Ensure Accuracy
Whether you're installing pipes on a construction site, hanging artwork, or putting up shelves in the garage, drawing straight and accurate lines can be a challenge. Using a pencil or a string and a traditional bubble or spirit level can be time-consuming, tedious, and inaccurate. The Leica LINO L2 vertical and horizontal line laser projects bright, exact lines without any complicated setup, so you can concentrate on your job at hand.
High-quality Leica optics ensure bold, accurate, easy-to-see laser lines, so you won't waste time or make errors hunting for little marks in dim lighting. And the Leica LINO L2 makes it possible to transfer reference points from one wall to the next quickly and easily.
Versatile, Self-Leveling Performance
Tedious, time-consuming alignment procedures are a thing of the past with the Leica LINO L2. Minor angular misalignments of ± 4 degrees are compensated for automatically, helping you get perfect horizontal or vertical lines. If the angular misalignment is greater than this, the device does not project any lines, preventing costly errors. Additional alignment work, such as marking 90 degree angles, can be performed at the touch of single a button.
When you're working on a more complex structure, you can manually switch off self-leveling using the lock function. This allows the laser line to be projected at any angle. An included ball adapter makes it easy to set up when you are projecting lines at a variety of angles.
With Leica's trademarked Power Range Technology that delivers a working range up to 15 meters (50ft), depending on light conditions, and accuracy with one millimeter over a five meter distance, the Leica LINO L2 delivers accuracy far beyond what you would be likely to achieve by hand. And this range can be extended beyond 30 meters (100ft) using a Leica detector (not included).
Convenient, Durable Design
The Leica LINO L2 is a compact unit that fits neatly in your hand and packs away in a convenient, protective carrying case between uses. And with just two control buttons, you'll appreciate that you don't have to spend hours learning to set it up.
Also included with the Leica LINO L2 is a target plate, which provides a projection surface in open spaces, and a magnetic multi-function adapter that can be used as a small tripod or a wall bracket, making setup easy in almost any situation.
Informations
PRIORITY SHIPPING
We ship our products by most trusted shipping agencies – UPS & DHL
SHIPPING WORLDWIDE
We ship to any part of our World
FREE & FAST SHIPPING
Doesn't matter where we will send instruments and equipment, shipment is free
ASSISTANCE 
Contact us on +38766162261 (Mobile+ Viber + WhatsApp)
Bosna i Hercegovina​
+38766162261
Serbia
+381640114686
Montenegro
+38267239669
E-mail [email protected].
Only logged in customers who have purchased this product may leave a review.